Lolita fashion is a fashion style from Japan that is based on the look of Victorian-era or Rococo period clothing. Contrary to much modern dress for girls and women, the Lolita look began primarily as one of modesty and winsomeness. It is the deliberate cultivation of innocence, not sexiness; it is not at all related to Vladimir Nabokov's Lolita.
The Sweet Lolita, also known as ama-loli in Japanese, is heavily romantic and winsome in style, influenced by Rococo as well as Victorian and Edwardian clothing. Focusing on the fantasy aspects of Lolita, the Sweet Lolita style adopts the basic Lolita format and uses lighter colors and childlike motifs in its design.
The wearer of the sweet Lolita style prefers makeup using pink, pearl, or peach tonesch, or Pearl make up styles are highly 'sweet' and used by many Sweet Lolitas. This look is often accompanied by a shade of bright pink, red or sometimes nude-pink lipstick. Dresses of sweet Lolitas usually employ pastels, fruit themes(cherries or strawberries), flowers (roses, jasmines, lily, cherry blossoms) lace, bows, animal themes (cats, bunnies, puppies) and ribbons to emphasize the cuteness of the design. Popular themes in the sweet Lolita are references to Alice in Wonderland, sweets, and classic fairy tales. Jewelry often reflects this fantasy theme. Headdresses, bonnets and bows are a popular hair accessory to the sweet Lolita look. Bags and purses usually have a princess-like design and often take the shape of strawberries, crowns, hearts, and stuffed animals.
The typical Lolita dress's silhouette is of a knee length skirt or dress with a 'cupcake' shape assisted by petticoats, but may also consist of a floor lenght skirt. Blouses, knee high socks or stockings and headdresses are also worn.
Gothic Lolita fashion is characterized by darker make-up and clothing. Red lipstick and smoky or neatly defined eyes, created using black eyeliner, are typical styles, although as with all Lolita sub-styles the look remains fairly natural. Some Lolita uses dark color schemes including black, dark blues and purples, although black and white remains popular. As with the Goth look found in the West, crucifixes, ankhs, or other accessories
such as those shaped like bats, coffins, or hexagrams may also be used in this look. There's a tension between the wholesomeness and the creepy produced in this style.
So much for the intro. The discouraging thing about this style is that it is mostly restricted to Japanese teens. The rococo look seems pretty; but it probably would not go over in most situations. I can just imagine those great avatars of Puritanism, the assistant principals, reacting to a girl coming to school with the Lolita look! Or can you imagine a grown woman in her 20's or 30's wearing this at work or even while going out in the evening.
Sometimes some of us just want to look like a pretty confection; but not sexy or modern or efficient or so functional! We need a resurgance of Romanticism!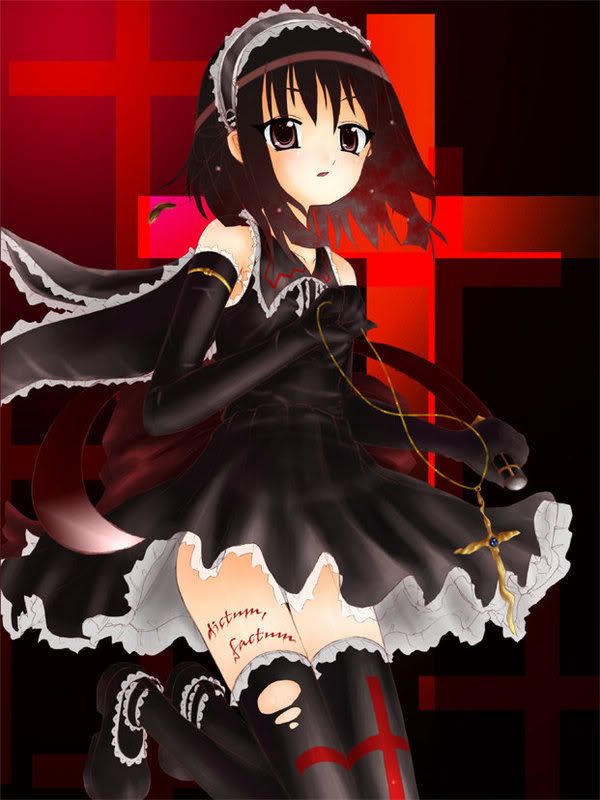 Gothic Lolita

Here's Nana Kitade, dressed in Lolita fashion, performing a song: